If you are like most people you understand the importance of destroying sensitive paper documents before you dispose of them. Even so, according to the Federal Trade Commission, roughly 9 million Americans have their identity stolen every year. This statistic means it is likely you or someone you know has been a victim.   
You may be wondering, is document shredding ever free? The quick answer is sometimes.  The chart below outlines the most common shredding options available to the public. The list of options, including free shredding, appears along with the factors that matter most to people who take shredding seriously. Each option is then ranked with a numerical value for your analysis. Knowing where to turn as well as the associated risk will help you make right decision when it's time for you to part with your sensitive paperwork.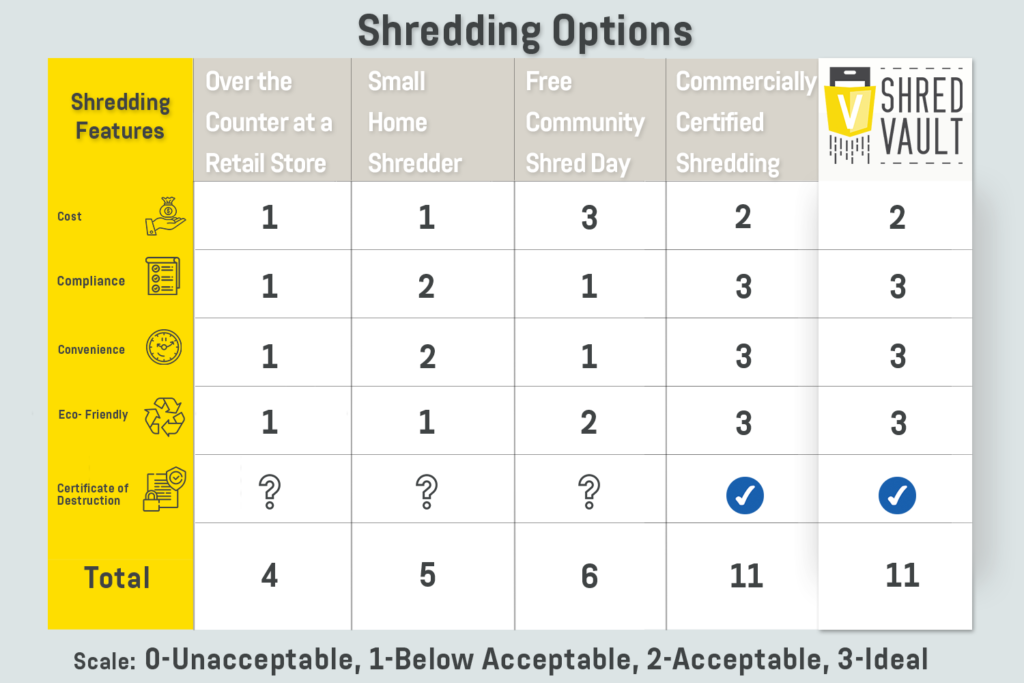 Over

–

the

–

Counter Shredding

 at a Retail Store

 
Cost (1) 
Generally $1.00-

$1.49 per pound

 

No discounts 

or

 routine subscriptions 

 
Compliance (1)
Uncertified 

workers handling your 

sensitive documents

 

No process

 

t

o ensure 

when or if 

your documents are 

securely

 shredded

 
Convenience (2)  
Finding a location near you may be a challenge

 

Limited to their

 business hours, not what

's most convenient for you

 

 

May have to wait in 

line

 
Eco-Friendly (1) 
May or may not be recycled
Over the counter shredding continues to be one of the most common solutions for people purging documents. However, this drop off shredding service offers no trackable process and allows employees who are not trained in information security handle your sensitive documents. As such, over the counter shredding earns a 4 out of 12 based on the higher cost, possible inconvenience, lack of compliance and unknown impact to the environment. 
Small Home Office Shredder
If you've done any research on how to securely dispose of your documents then you've likely looked into purchasing a home office shredder. This solution certainly isn't free, can be time consuming, and frankly makes a mess. Add to these challenges, that the end product is too small to be recycled and you can add not environmentally friendly to the list. You typically have to replace an at home office shredder every year or two due to lack of maintenance, factory malfunctions, and over usage.  
Aside from saving yourself the cost and hassle of purchasing or maintaining a small office shredder, you also eliminate the labor. Do you really want to spend your valuable time standing in front of a non-commercial office shredder feeding document after document? Small home office shredders are known to be slow and finicky. In addition, you'll be forced to sort through the entire stack to remove paper clips and staples. These factors combined rank the small home office shredder at 5 out of 12. 
Cost (1)
A

nywhere between $50-$250

 

O

il to lubricate the machine 

as needed 

($10-$16 per bottle

)

 

Replace every 

year or 

two

 
Compliance (2)
N

o 

chain of custody or release of liability

 

Documents often sit unsecured until you find time to shred them

 

No certificate of destruction

.

 
Convenience (2)
Small in size can fit underneath your desk

 

Jams and malfunctions

 

Lubricate monthly

 
Eco Friendly (1)
Paper not recycled due to size and shape 

of output

 
Free Community Shredding Event

 
Shred events are popular in most communities. If you are lucky enough to be invited to one these events offer participants a mostly secure and some-what environmentally friendly way to get rid of unwanted paperwork that contains personal, and financial information. Business sponsored free shred events are great if you don't have much to shred and you're willing to store your documents until an event near you pops up. However, these events can be hard to find and ultimately must fit into your schedule since they are date and time specific.  
Outside of the price—FREE—this service may not be so ideal. If you are bringing business documents to shred at  a free event, you might want to reconsider. Businesses are required by law to retain client, employee, and company information for a specific amount of time. Once this period has reached the end of its lifespan, the documents must be securely shredded. To remain compliant with privacy and security laws, it is highly recommended that your business obtains a certificate of destruction after each shredding service so you can avoid any legal action if some sort of data breach occurs. With all factors considered, we rate this shredding service a 6 out of 12. 
Cost (3)
"Free" but you

 likely

 pay for services to the 

C

ompany who is hosting the 

event

 
Compliance (1)
No certificate of destruction

 

A lot of people involved in the process; long chain of custody that is difficult to track 

 
Convenience (1)
Wait in long lines to get your documents shredded

 

Finding an

 event

 that fits into your schedule

 

Paper piles up in your home or office (data breach)

 

Due to

 COVID-19 less events 

being held

 
Eco Friendly (2) 
The paper

 may or may not be 

recycled

 
Commercially Certified Shredding
Outsourcing your shredding needs is another viable option when it comes to properly destroying unwanted documents.  
Data security experts have rich experience and special training to manage end of life information in accordance with the industry's highest standards. If you decide that a commercial shredding service suits you best, make sure you select a company that is certified by the National Association of Information Destruction (NAID). Earning NAID certification is a rigorous process that verifies a data destruction company can check all the right boxes including background checks, secured trucks and facilities, and written procedures for all their services. 
 Cost (2) 
Prices 

 will vary depending on the provider

 

D

iscounts 

and routine pricing may exist

 

You get what you pay for; quality and secure shredding 

 
 Compliance (3) 
Certificate of destruction 

 

NAID certified

 

BBB

 

Accreditation

 

HIPPA compliant

 

FISMA compliant 

 

FACTA compliant

 

GLBA compliant

 

Up to date on certifications 

 

Maintain strict regulations + rules

 
Convenience (3)
You pay for a service that is tailored to your needs

 

Once the service agreement is signed you sit back and let the company do the work

 

Systematic

 
Eco Friendly (3)
100% recycled 

 

Converted into t

issuing + toweling 

 
If you want to check all of the boxes, commercially certified shredding is certainly an option. Do your research and see if it represents the best fit for the situation at hand. With all of its features, we rank this service 11 of 12. 
Shred Vault

 
Shred Vault is the first complaint, trackable small business and consumer based shredding solution ever offered. With the user friendly app, multiple convenient drop off locations, exclusive coupons, and eco friendliness you may not be able to beat it. 
If you value proof that the shredding was done and would like to have a certificate of destruction consider Shred Vault®. Shred Vault is good for the one time job as well as for repeat service. It's as little or as much as you'd like to shred when you are ready and without having to schedule a pick up or wait. Shred Vault is a revolutionary shredding service is as simple as 1,2,3 
Order a Shred Vault Bag online or through the mobile app.

 

Fill your Shred Vault Bag with up to 10 

lbs

 of paper and then seal i

t

 

Deposit at 

a

 

l

ocal Shred Vault Kiosk.

 
This service is a great alternative if you do not want to wait for a free shredding event and need a convenient, affordable, and secure solution that comes with tracking, a certificate of destruction, and all the other benefits of commercially certified shredding.  
Cost (2) 
Pay for a subscription service 

 

One time purchase

 

Discounts offered

 

Exclusive coupons to businesses 

where 

you deposit your bag 

 

The more you buy, the lower the cost per bag

 
 Compliance (3)
Certificate of destruction 

 

NAID certified

 

BBB Accreditation

 

HIPPA compliant

 

FISMA compliant 

 

FACTA compliant

 

GLBA compliant

 

Up to date on certifications 

 

Maintain strict regulations + rules

 
Convenience (3)
Shred on your time 

 

C

ontrol the frequency of your service

—only pay for what you need

 

Multiple conveniently located 

Shred Vault K

iosks

 

Certificate of destruction s

ent directly to your email

 

P

urchase in store or online

 
Eco Friendly (3) 
100% recycled 

 

Converted into

 tissuing + toweling

 
This option is compliant, convenient and environmentally sound. With all its features and benefits Shred Vault ranks 11 out of 12. 
Click here to learn more about Shred Vault®, or here to find get more information on the next free shredding event.