Disposed doesn't mean destroyed
Simply throwing away old hard drives or electronics puts your confidential information at risk.
Unfortunately, along with the advancements in technology come advancements in cyber invasions and data theft. To protect your information and your business, destroy your data the right way right away.
DataShield completely destroys your confidential data for good – forever.
We are up-to-date on the latest destruction technology so that we are always one step ahead of cyber thieves. We strip your old electronics of any hard drives and storage components and shred them down to irretrievable pieces. Unlike other companies, we never resell hard drives. We destroy, then recycle them – protecting you and our planet.
We understand that you deserve to know what happens to your secure information. That's why we always keep you informed on our process, which allows you to witness the destruction of your data, and give you a Certificate of Destruction after each and every service.
Our employees are knowledgeable, AAA NAID Certified, and HIPAA, FISMA, FACTA, and GLBA compliant.
Our building is equipped with state-of-the-art security technology and is under 24-hour surveillance.
Data Destruction Explained
DataShield destruction expert explains the importance of data shredding and the process involved.
We Provide E-Waste Recycling

Electronic Recycling
Electronics make up the fastest growing source of waste on the planet, and the United States is the single largest producer of electronic waste. DataShield offers custom solutions so you can safely recycle the old electronics stacking up in the corner.

Cell-Phone Recycling
Majority of old, unused cell phones end up in our landfills. Instead of trashing your old cell phone, make the choice to recycle it instead! There are so many amazing benefits to cell phone recycling and DataShield makes it easy.

Computer Recycling
Computers contain chemicals and materials that are harmful to the environment, so recycling your computer helps to decrease the number of electronics that end up in our landfills. You can protect your identity and save the environment by recycling with us.
Our team is ready to meet you and help you safely and securely recycle your electronics.
The DataShield security procedures have been AAA NAID certified and approved and along with HIPAA, FISMA, FACTA, and GBLA compliant, we pride ourselves on being committed to doing our part to preserve the environment. We ensure every piece of your old equipment is properly recycled. We recycle what we can according to the strict guidelines.
We are AAA NAID Certified and are the first company in Omaha to have staff members with the Certified Secure Destruction Specialist accreditation from NAID.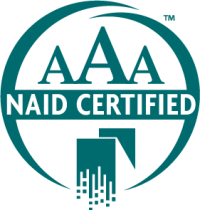 Start Protecting Your Documents and Data Today with DataShield