The Assurance of Compliance and Certification
When you trust your important documents and data to DataShield, rest assured that you're partnered with a company that understands and complies with HIPAA, FISMA, FACTA, and GLBA privacy rules. Plus, we help you create a company culture that is centered around security. Our team of experts is committed to keeping you up-to-date on the latest developments and regulatory changes in information protection and security.
State and national laws require businesses to follow very specific processes to properly dispose of paper documents, data, and old electronics. Most companies simply aren't equipped to handle these processes on their own. That's why you need DataShield. We offer Compliance Consulting services that cover everything from a complete assessment of your current practices and procedures, to helping you create and implement a plan to train your employees.
Compliant data and document destruction starts before we walk in your door. We are AAA NAID Certified and are the first company in Omaha to have staff members with the Certified Secure Destruction Specialist accreditation from NAID.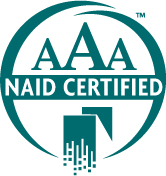 Paper takes up space and, if not securely shredded, can become a liability for your company. With multiple container options and convenient scheduling, DataShield takes the worry out of your information destruction and disposal needs.