Recycled doesn't always mean destroyed
Simply throwing away old hard drives or electronics puts your confidential information at risk.
Unfortunately, along with the advancements in technology come advancements in cyber invasions and data theft. To protect your information and your business, destroy your data the right way right away.
DataShield's certified services include on-site and plant-based shredding services for: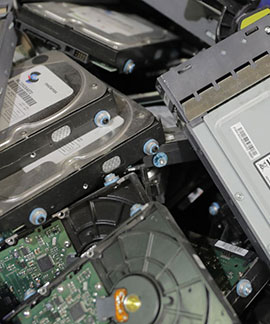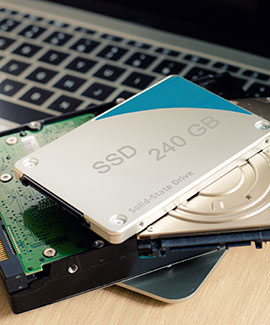 DataShield provides physical destruction and shredding of hard drives, data tapes, cell phones, and other electronic media.
DataShield specializes in high-speed on-site shredding of media tapes, hard drives and data tapes with serial number capture to ensure you have proper tracking and proof of the destruction. Our highly trained service personnel know the ins and outs of data security and specifically destruction. As a customer of DataShield you can expect the highest level of security and service for your project. Whether retiring a single desktop computer or updating an entire data center, DataShield has a compliant, convenient solution for you.
Specialized Shredding Equipment
DataShield employs the use of specialized destruction equipment designed to handle hard drive shredding, data tape shredding, and flash media destruction. Each shredder is designated for specific media to ensure the shredding meets the requirements of all applicable laws.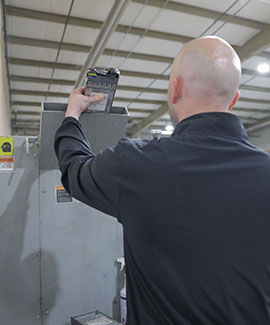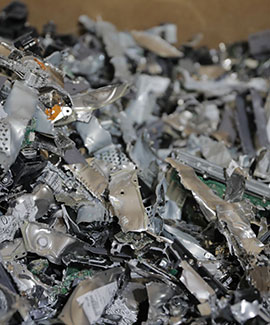 Depending on your needs, DataShield provides both high-speed on-site shredding or convenient plant-based shredding.
Both methods are AAA Certified by the National Association for Information Destruction (NAID) and includes serial number capture, Transfer of Custody paperwork, Certificate of Destruction, and the confidence that your information is destroyed, for good. All our processes ensure compliance via an unbroken chain of custody from pick-up, to processing, to destruction and final recycling.DataShield guarantees exceptional security and service whether you choose plant-based or onsite shredding for your media.
Plan Based Hard Drive Shredding
Our highly trained staff will inventory and securely transport your hard drives, data tapes, and other unwanted electronics to our secure facility via GPS tracked and monitored vehicles. At the DataShield Plant, all material is re-inventoried and hard drives, flash media, data tapes, and other data containing devices are readied for shredding. Hard drives are scanned and destroyed using dedicated destruction equipment designed to render them unusable. A Transfer of Custody document is provided when material is initially removed from the customer's facility and a Certificate of Destruction issued once everything has been processed and destroyed.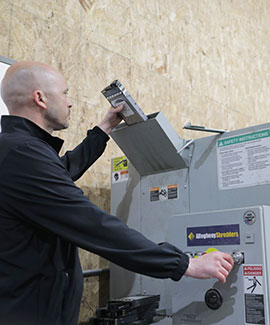 On-Site Hard Drive Shredding
For highly secure projects, on-site shredding ensures all of your hard drives and data tapes are completely shredded before leaving your facility. DataShield will shred inside your facility or on our dedicated data destruction vehicle at a high-rate of speed. A Certificate of Destruction is issued at the conclusion of the project listing all items by serial number, item type, make and model.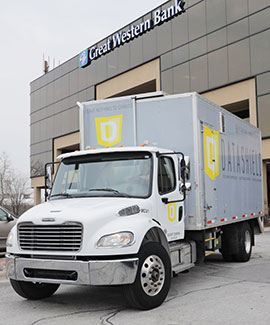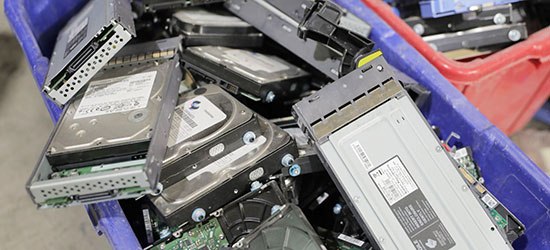 We understand the importance of data security. Clean out your office space or storage room with a one-time purge. When it comes to your information destruction needs—count on DataShield.
We are AAA NAID Certified and are the first company in Omaha to have staff members with the Certified Secure Destruction Specialist accreditation from NAID.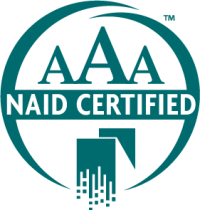 Start Protecting Your Documents and Data Today with DataShield